From now until June 5th, you have a chance to win 18 paperback books from 18 bestselling historical romance authors – a $250 value!  It's easy – just click the enter button for directions. And don't forget, Taming Thad – Book 12 of my Tarnished Saints Series is available on preorder and will be released on June 2nd!
Win 18 signed paperbacks from your favorite authors!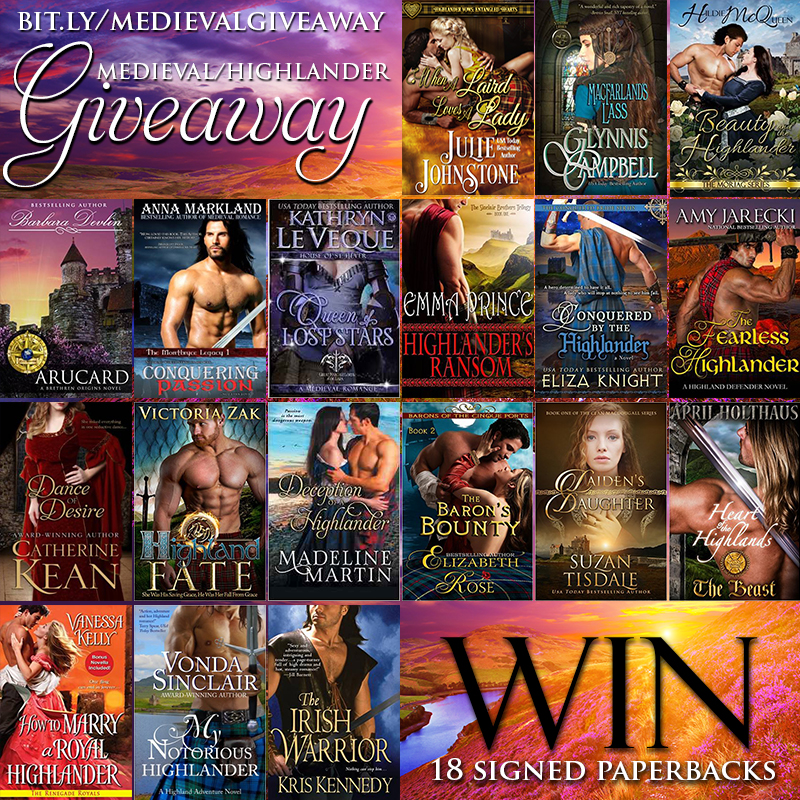 Disclaimer: Entering to win will subscribe you to the participating author's newsletters. By entering to win you are giving your permission. Thank you.
If you're a big fan of Medieval/Highlander romance, then you're going to love this massive giveaway! I was honored to pair with these amazing authors, and I'm really excited to share this with you. Read on below to learn about each book.
The Fearless Highlander by Amy Jarecki
Conquering Passion by Anna Markland
Heart of the Highlands: The Beast by April Holthaus
Arucard by Barbara Devlin
Dance of Desire by Catherine Kean
Conquered by the Highlander by Eliza Knight
The Baron's Bounty by Elizabeth Rose
Highlander's Ransom by Emma Prince
MacFarland's Lass by Glynnis Campbell
Beauty and the Highlander by Hildie McQueen
When a Laird Loves a Lady by Julie Johnstone
Queen of Lost Stars by Kathryn Le Veque
The Irish Warrior by Kris Kennedy
Deception of a Highlander by Madeline Martin
Laiden's Daugher by Suzan Tisdale
How to Marry a Royal Highlander by Vanessa Kelly
Highland Fate by Victoria Zak
My Notorious Highlander by Vonda Sinclair
Enter to win: http://bit.ly/medievalgiveaway
Elizabeth Rose – 🙂